Apply Barycenter Correction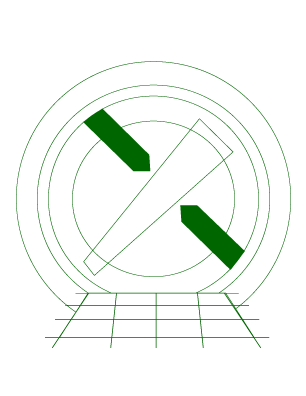 CIAO 4.7 Science Threads
---
Synopsis:
The axbary tool applies a barycenter correction to the times in an observation. This is necessary in order to account for the difference in photon arrival times as the Earth and Chandra move around the Sun.
Purpose:
To barycenter-correct the photon arrival times in an event file (imaging or grating data) for use in absolute timing analysis.
Last Update: 26 Jan 2015 - Updated for _NOM values bug and to include processing of the aspect solution file.
---
---
---
This thread is now complete; all the events in the file have been barycenter corrected. Note that although is does not hurt to run this thread more than once on the same dataset, nothing will be changed after the first run.
---


Parameters for /home/username/cxcds_param/axbary.par


        infile = acisf00133N004_evt2.fits input event file
     orbitfile = orbitf051580864N002_eph1.fits input orbit ephemeris file
       outfile = acis_133_bary_evt2.fits output file
           (ra = 85.04649999999999) RA to be used for barycenter corrections
          (dec = -69.33163999999999) Dec to be used for barycenter corrections
     (refframe = INDEF)           Reference frame to be used
      (clobber = no)              Clobber existing file
         (mode = ql)              
    
---
| | |
| --- | --- |
| 16 Dec 2004 | reviewed for CIAO 3.2: no changes |
| 08 Dec 2005 | updated for CIAO 3.3: the case of two parameter names has been changed: "orbitFile" is now "orbitfile" and "refFrame" is "refframe". |
| 01 Dec 2006 | reviewed for CIAO 3.4: no changes |
| 09 Jan 2008 | updated for CIAO 4.0: axbary prompting matches order in parameter file |
| 31 Dec 2008 | reviewed for CIAO 4.1: no changes |
| 05 Feb 2010 | reviewed for CIAO 4.2: no changes |
| 13 Jan 2011 | updated for CIAO 4.3: event file version to N003 |
| 04 Mar 2011 | added information on checking the accuracy of source coordinates for continuous-clocking mode data; set ra and dec parameters when running axbary |
| 06 Jan 2012 | reviewed for CIAO 4.4: no changes |
| 03 Dec 2012 | Review for CIAO 4.5; updated version info |
| 25 Nov 2013 | Review for CIAO 4.6. No changes. |
| 16 Dec 2014 | Reviewed for CIAO 4.7; no changes. |
| 26 Jan 2015 | Updated for _NOM values bug and to include processing of the aspect solution file. |
---