HETG/ACIS-S Grating ARFs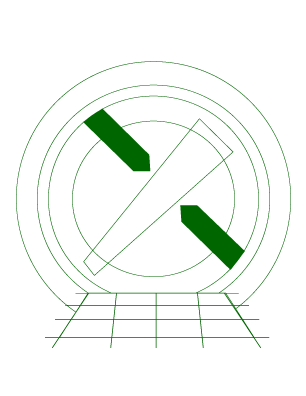 CIAO 4.9 Science Threads
---
Synopsis:
fullgarf is a script that creates a grating ARF for a particular order and grating of an observation. While the mkgarf tool will create a grating ARF for an individual chip given an aspect histogram, this script creates ARFS for each chip, creating aspect histograms as necessary. The script then combines the individual ARFS into one for the full array.
Purpose:
To create grating ARFs for an HETG/ACIS-S observation.
Related Links:
Last Update: 22 Dec 2014 - Reviewed CIAO 4.7; minor edits only.
---
---
---


Parameters for /home/username/cxcds_param/fullgarf.par


       phafile = acisf00459N004_pha2.fits Input PHA file (Type I or II)
        pharow = 1                Row in Type II PHA file (ignored if Type I)
       evtfile = acisf00459N004_evt2.fits Event file 
          asol = @pcad_asol1.lis Aspect offsets file
        engrid = grid(rmf.fits[cols ENERG_LO,ENERG_HI]) Energy grid spec
       dtffile =                  Dead time correction factor; ACIS->evt file; HRC -> dtf file
        badpix = acis_459_new_bpix1.fits Bad pixel file; (filename|NONE|CALDB)
      rootname = acisf00459       Output rootname
      maskfile = acisf00459_000N003_msk1.fits NONE, or name of ACIS window mask file
       (dafile = CALDB)            NONE, CALDB, or name of ACIS dead-area calibration file
     (osipfile = CALDB)           NONE or Name of fits file with order sorting info
      (clobber = no)              Clobber existing output files? This is passed to ALL child processes.
      (verbose = 0)               Control the level of diagnostic output. 0=>least.
         (mode = hl)              Mode flags.  Set to 'ql' to enable querying, 'hl' to suppress.
    
---
| | |
| --- | --- |
| 23 Dec 2004 | updated for CIAO 3.2: canned gRMFs are no longer available in the CALDB, removed "Choosing an RMF" section |
| 06 Dec 2005 | updated for CIAO 3.3: the fullgarf script has been updated to version 3.3.1 for the new asphist tool syntax; corresponding changes to screen output |
| 01 Dec 2006 | reviewed for CIAO 3.4: no changes |
| 26 Feb 2007 | fullgarf v4.0.1: Four new parameters have been added, all of which are used by the mkgarf tool: pbkfile, dafile, osipfile, and maskfile; see "ahelp fullgarf" for details on each new parameter. Added ACIS dead area correction section |
| 11 Jan 2008 | updated for CIAO 4.0: fullgarf v4.1.1 (parameter updates for applying ACIS dead area correction, which is turned on by default); ACIS QE contamination link moved to "Related Links" section; removed outdated calibration information ; added "ARF was computed to be zero at all energies" section |
| 30 May 2008 | fullgarf v4.1.3 (Unix head and tail commands replaced by pget and dmkeypar); thread images are inline |
| 12 Feb 2009 | updated for CIAO 4.1: "ARDLIB warning ... Assuming the first "interesting" extension." no longer printed; input data must have a CTI_APP keyword |
| 19 Feb 2009 | added Fitting section |
| 06 May 2009 | check the version of the CIAO scripts package instead of the individual script |
| 01 Jun 2009 | fullgarf updated in 01 Jun 2009 scripts package: If bad pixel file is not supplied, use the one from the CALDB. Previously, the script would set the bad pixel file to "NONE" in this case. |
| 16 Jun 2009 | added About the Chandra Grating Data Archive and Catalog section |
| 12 Jan 2010 | updated for CIAO 4.2: ObsID 459 file versions and corresponding minor changes to screen output; calibration update - the ACIS QE contamination model has been upgraded to vN0005. |
| 15 Dec 2010 | updated for CIAO 4.3: new ACIS contamination calibration file |
| 01 Mar 2011 | CALDB 4.4.2 release: fix to the header of the ACIS QE contamination file. Prior to this release, CIAO would fail when trying to look up the contamination model correction for chips ACIS-8 (S4) and ACIS-9 (S5). |
| 20 Jul 2011 | required software updates are listed in Synopsis |
| 10 Jan 2012 | reviewed for CIAO 4.4: no changes |
| 12 Mar 2012 | it isn't necessary to set the fullgarf dtffile parameter for ACIS data, since the DTCOR value is retrieved from the evtfile in this case. |
| 03 Dec 2012 | Review for CIAO 4.5; no changes |
| 24 Apr 2013 | Add pointer to new mktgresp tool. |
| 03 Dec 2013 | Review for CIAO 4.6. pbkfile has been removed from fullgarf. The data used in this threads is from very early in the mission and must be reprocessed to be used in CIAO 4.6. |
| 22 Dec 2014 | Reviewed CIAO 4.7; minor edits only. |
---