| | |
| --- | --- |
| File | $Source: /home/juda/www/hrc_flight/macros/RCS/hrcobs.html,v $ |
| Version | $Revision: 1.5 $ |
| Last Update | $Date: 1999/04/21 13:31:57 $ |
| HRC CCB Status | Approved |
HRCOBS Configuration
Description:
This sequence captures the logic that should be followed by the Command Generation function within the OCC Off-line System to configure the HRC for observations (i.e.the HRCOBS statement within the Detailed Operations Time-line would be expanded via this sequence). The specific settings requested for an observation are passed into the HRCOBS statement by the HRC_MODE value of the Observation Request (OR).

Notice that since we expect to use default settings for most observations, this higher-level procedure will usually only send commands to the HRC if there is a detector change (HRC-I to -S or HRC-S to -I).
Cautions/Restrictions:
An HRC detector, either HRC-I or HRC-S, is expected to be operational as a prerequisite to scheduling an HRCOBS statement. Thus, this higher level sequence does not contain steps to go from the "Off" state.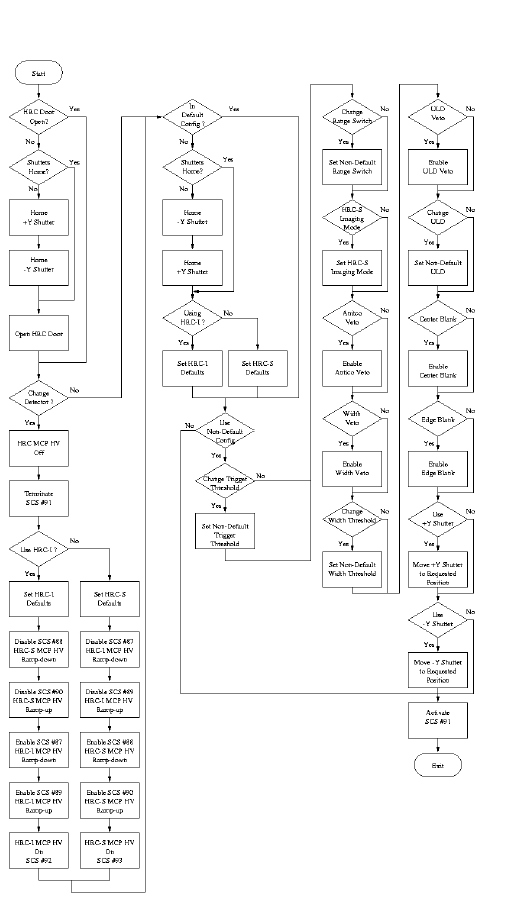 Procedure
If the HRC detector housing door is NOT OPEN

If HRC shutters are not at the "Home" position

If this observation uses a different detector than the current detector

Terminate SCS #91 - HRC Dither Control
If this observation uses the HRC-I

Disable SCS #88 "HRC-S MCP HV Ramp-down"
Disable SCS #90 "HRC-S MCP HV Ramp-up"
Enable SCS #87 "HRC-I MCP HV Ramp-down"
Enable SCS #89 "HRC-I MCP HV Ramp-up"

Else we use the HRC-S

Disable SCS #87 "HRC-I MCP HV Ramp-down"
Disable SCS #89 "HRC-I MCP HV Ramp-up"
Enable SCS #88 "HRC-S MCP HV Ramp-down"
Enable SCS #90 "HRC-S MCP HV Ramp-up"

If the detector is not currently configured with the default settings

If the shutters are not at the home position
If the current detector is the HRC-I
Else the current detector is the HRC-S

If this observation does not use the default settings

If non-default trigger threshold

Send command 2LLDIATH with 2LLDIAT1 = TRIGGER_LEVEL

If non-default range switch value

Send command 2RSRFAAM with 2RSRFAA1 = RANGE_SWITCH_LEVEL

If spectroscopy mode is "IMAGING"
If anticoincidence vetoing is enabled
If width vetoing is enabled
If non-default width threshold

Send command 2WDTHATH with 2WDTHAT1 = WIDTH_THRESHOLD

If ULD vetoing is enabled
If non-default ULD level

Send command 2ULDIATH with 2ULDIAT1 = UPPER_LEVEL_DISC

If center blanking is enabled
If edge blanking is enabled
If +Y shutter is not at "Home"
If -Y shutter is not at "Home"

Activate SCS #91 (HRC Dither Control)
---
$Log: hrcobs.html,v $
Revision 1.5 1999/04/21 13:31:57 juda
marked as Approved
Revision 1.4 1999/03/03 21:34:33 juda
changed links for files with name changes
Revision 1.3 1998/11/18 17:16:31 juda
moved "MCP HV Off" and "Terminate SCS#91" out of detector specific sections
Revision 1.2 1998/10/15 20:44:30 juda
replaced calls to pages for switch HRC-I to HRC-S and HRC-S to HRC-I with the necessary explicit line. This removes the MCP HV ramp-up activation and allows SCS #91 to do the ramp-up
Revision 1.1 1998/10/15 20:14:47 juda
Initial revision
---
Dr. Michael Juda
Harvard-Smithsonian Center for Astrophysics
60 Garden Street, Mail Stop 70
Cambridge, MA 02138, USA
Ph.: (617) 495-7062
Fax: (617) 495-7356
E-mail: mjuda@cfa.harvard.edu