Eight Years of Science with Chandra
The fourth in a series, this meeting will highlight science results from the past eight years of operation of the Chandra X-ray Observatory with emphasis on recent results. Contributions from the XMM-Newton, Suzaku, and Swift Observatories and related results from INTEGRAL, RXTE and AGILE also will be presented.
23 - 25 October 2007
Marriott Huntsville
Huntsville, Alabama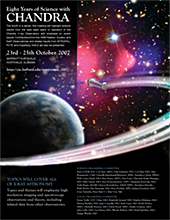 Download the Symposium Flyer
(high resolution PDF, 3.5 MB).