The Chandra Newsletter
Welcome to the archive of the Chandra Newsletter.
The director's office of the Chandra X-ray observatory puts out newsletters featuring updates from the director, program scientist, program manager, and calibration and instrument teams. A science article from the variety of topics covered by Chandra users is featured annually.
To be notified when the Newsletter is published, subscribe to cxcnews by sending email to cxcnews+subscribe@cfa.harvard.edu.
Current Issue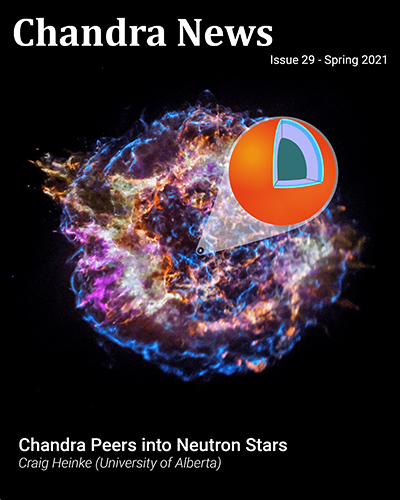 Chandra Newsletter - Issue 29
Spring 2021
Cover Article: Chandra Peers Into Neutron Stars
In this issue:
How Chandra observations help constrain the interiors of neutron stars, updates on the exclusive-use period and staff changes, publicity for your science results, new Nasa Hubble Fellows, and updates from Calibration, ACIS, HRC (recent anomaly and recovery), HETG (usage statistics and the Megasecond club).
Past Issues