| | |
| --- | --- |
| File | $Source: /home/juda/www/hrc_flight/macros/RCS/i_hv_on.html,v $ |
| Version | $Revision: 1.3 $ |
| Last Update | $Date: 1999/07/07 14:48:20 $ |
| HRC CCB Status | Approved |
Initial HRC-I MCP HV On
Description:
This procedure should be followed the first time the HRC-I MCP HV power supply is turned on during OAC. First, the stored command sequence that protects the HRC MCPs in the event of a high radiation environment (85) is enabled. Then, the three protected stored command sequences for the HRC-S MCP HV (SCS 88, 90, and 93) and for the HRC dither control (SCS 91) are each disabled as necessary. The HRC-I MCP HV ramp-up SCS (89) is disabled and the ramp-down SCS (87) is enabled. Finally, the HRC-I MCP HV turn-on SCS (92) is enabled and activated.
Cautions/Restrictions:
This procedure should not be executed until the the HRC detector housing door has been open for 24 hours.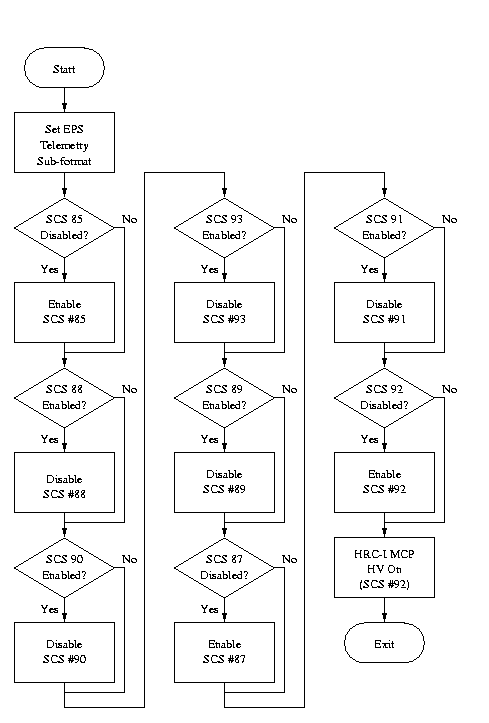 Procedure
Set Telemetry Sub-format to EPS
If SCS 85 is disabled
If SCS 88 is enabled
If SCS 90 is enabled
If SCS 93 is enabled
If SCS 89 is enabled
If SCS 87 is disabled
If SCS 91 is enabled
If SCS 92 is disabled
---
$Log: i_hv_on.html,v $
Revision 1.3 1999/07/07 14:48:20 juda
added EPS subformat selection and inserted SCS 91 disable steps
Revision 1.2 1999/07/06 15:39:38 juda
removed manual HV ramp-up step
Revision 1.1 1999/07/06 15:30:30 juda
Initial revision
---
Dr. Michael Juda
Harvard-Smithsonian Center for Astrophysics
60 Garden Street, Mail Stop 70
Cambridge, MA 02138, USA
Ph.: (617) 495-7062
Fax: (617) 495-7356
E-mail: mjuda@cfa.harvard.edu